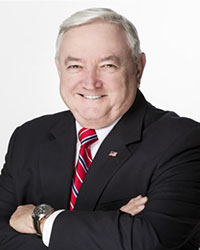 Charlie's purpose has always been focused on what's important…protecting your lifestyle and financial security. He considers it a privilege to help families and business owners determine what is important for them.
He helps individuals and their loved ones maintain their choices and independence when faced with a critical illness or needed extended care.
He helps you protect your income throughout retirement, as well as protect savings and future earnings in the event of an illness, injury, or unexpected passing.
Life Underwriters Training Council Fellow (LUTCF)
Past President -Nashville Association of Insurance & Financial Advisors (NAIFA)
Former Instructor for Insurance Systems of Tennessee
Former Instructor for the Life Underwriters Training Council
Life Member of the Full Gospel Businessmen Fellowship International
Life Member United States Marine Corp Association -Semper Fi
The Powerful Carriers We Represent
We enjoy direct business-to-business relationships with some of the most prestigious insurance companies in the world. We are not focused on a particular company's solution; we are focused on finding the right solutions that are in your interest.  All Life Insurance Companies are rated A or better.
Accordia Life
Allianz
American General (AIG)
American National
AXA Equitable
Banner Life
Brighthouse Financial
Cincinnati Life
Columbian Life
Fidelity Life
Gerber Life
Global Atlantic
John Hancock
Lincoln Financial Group
MET Life
Minnesota Life (Securian)
Mutual of Omaha
Nationwide
North American Company
One American
Penn Mutual
Principal Financial Group
Protective Life
Prudential
SBLI
Symetra
Transamerica
United Home Life
United of Omaha
Voya Financial
Zurich Life
Fixed and Indexed Annuities
American General (AIG)
American Equity
American National(ANICO)
Athene
Integrity
IPG Annuities at IPG-US.com
Lincoln Financial Group
Minnesota Life (Securian)
Mutual of Omaha
Nationwide
North American Company
Protective Life
Prudential
The Standard
Voya Financial
Linked Benefit Hybrid Products
Lincoln's Money Guard
Mutual of Omaha
Nationwide
One American
Transamerica